Activate Hope: Meredith Andrews Concert
Saturday, December 02, 2017, 6:00 PM - 8:00 PM
One Concert, Two Nights
December 2 & 3 | 6 PM
A Christmas Worship Concert to benefit Innerfaith Prison Ministry. Cost of admission is any non-perishable food item.
Songwriter and Worship Leader Meredith Andrews is passionate about writing and leading songs that keep people's hearts and minds set on Jesus. Over the course of her four worship albums the Dove Award-winning artist has been using her musical gifts, love for God, and her huge heart for His people - to teach and remind us all about the enormity of our awesome and loving Savior. Andrews focuses on creating music that lifts the body of Christ to a closer relationship with the Lord. On a regular basis, Andrews leads worship at major women's and worship leader conferences across the U.S.
The two time Dove Award winner and seven time nominee's songs include "Open Up the Heavens," "Spirit of the Living God," and "I Look to the King." She has toured with Matt Maher, Natalie Grant, Big Daddy Weave, Vertical Church, Phil Wickham, and Michael W. Smith, among others.
Activate Hope is the first of four events in the Activate Advent series. Learn more about the other events:
Activate Peace Activate Joy Activate Love
For more about ACTIVATE ADVENT: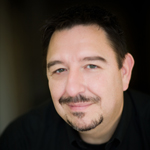 John Frank Reeve
Minister of Music
337-593-3748